Pole Green Dog Park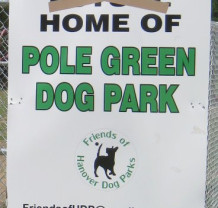 Welcome to Pole Green Dog Park.
We're excited to welcome you to Pole Green Dog Park! The dog park is a great place for you to bring your dog to socialize, play and burn off that extra energy! Check out the information below:
This 1.2-acre dog park is brand new, established in 2015, and is the second dog park in Hanover County. The park had a soft opening in January when the 6-foot fence was installed. A covered bench for individuals with limited mobility is a special feature. The dog park has two water stations, several waste stations, a time-out pen and benches. Dog agility equipment will be installed mid-year. Well-behaved dogs with their owners are invited to exercise and socialize.
Open daily from dawn to dusk throughout the year.
The dog park is located at:
8996 Pole Green Park Ln,
Mechanicsville, VA 23116 Map It